When a Tear Down is Cheaper...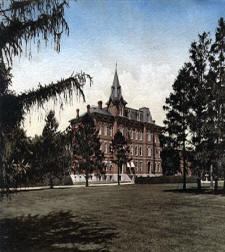 University Hall...destined for rubble?

Our administration reported to the BoT on Friday that several buildings on campus are in such disrepair that it would be cheaper to tear them down and build anew, than repair them. This is largely due to the gap in funding for repair and renovation that Purdue has received from the state in the last several years.
I already reported how dirty the buildings have become
, and now we hear that some campus landmarks may get the wrecking ball.
Included on the list is University Hall, pictured above, the oldest building on campus. About 8 years ago, a December storm blew the roof off this building, which houses the history department. The roof was rebuilt, including the beautiful and ornate cupola. On a campus not particularly noted for architectural distinctness, University Hall at Purdue is a handsome, if somewhat impractical building.